| | |
| --- | --- |
| | Abroad Writers' Conference |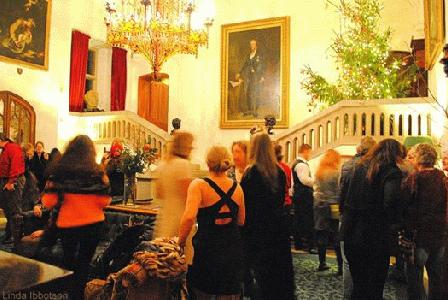 Welcome to Abroad Writers' Conference.


Our conference are led by some of the worlds most talented authors, poets and screenwriters. Stimulating talks, readings, Q&A's, writing workshops, private consultations and social gatherings all take place within a week. Abroad Writers' Conference promises you true networking opportunities and full detailed feedback on your writing.

Abroad Writers' Conference is a totally unique experience. We hold our events in magnificent settings, historic castles and villas. There we have intensive writing workshops held throughout the day followed by drinks and our nightly readings. Dinner is a grand event. Chef Alison Negrin former executive chef at Chez Panisse--listed as one of the Best Restaurants in the World--will prepare a 4 course dinner w/wine.

We believe in treating writers special and giving them an experience of a lifetime.

June 21 - 28, 2014 LAKE COMO, ITALY

We are holding our conference at Villa La Gallietta at Lake Como, Villa La Gallietta was one of seven eighteenth-century villas built along the western shores of Lake Como, near the church of Saint George and Villa Olmo. Originally built by Pietro Antonio Fossani from Milan, who in 1772 bought the Villa Gallia and the surroundingn land. Gallietta means "little Gallia", with relation to the larger building Villa Gallia. In 1830, the Villa was renovated by Melchiorre Nosetti. Nosetti adapted the facade to a neoclassical style.

Authors teaching workshops and giving readings at Lake Como are:


RAE ARMANTROUT–Pulitzer Prize in Poetry

NIKKY FINNEY–National Book Award in Poetry

PAUL HARDING--Pulitzer Prize in Fiction

EDWARD HUMES–Pulitzer Prize in Journalism

JACQUELYN MITCHARD–Orange Prize finalist, Editor-in-chief Merrit Books

ALEX SHOUMATOFF–Contributing editor Vanity Fair

JANE SMILEY–Pulitzer Prize in Fiction

SUSAN WHEELER–National Book Award finalist in Poetry Musicians

BARRY GREEN–Principal Bassist for the Cincinnati Symphony

MARINA PACOWSKI–Pianist and vocal coach at the Music Conservatory Maurice Ravel in Bayonne, France



FICTION WORKSHOP–PAUL HARDING & JANE SMILEY

MEMOIR WORKSHOP–EDWARD HUMES & ALEX SHOUMATOFF

POETRY WORKSHOP–RAE ARMANTROUT, NIKKY FINNEY and SUSAN WHEELER

POETRY W/MUSIC WORKSHOP –NIKKY FINNEY with Musicians: bass, BARRY GREEN–Cincinnati Symphony and Touring concert pianist/jazz singer MARINA PACOWSKI.



This will be five day workshop. Participants will be working with Nikky Finney for poetry, Marina Pacowski for voice coaching and Barry Green for combining poetry with music.

FULL MANUSCRIPT LINE EDIT & CRITIQUE — JACQUELYN MITCHARD. This is an intensive three full day workshop. Jacquelyn will do a full line edit and 5 page written critique prior to the workshop of everyone's full manuscripts, no limit on pages. Plus, all participant must read everyone's manuscripts; afterwards, each participant will receive a four hour critique of their work.

Click for more info.
Website
www.abroad-crwf.com
Year Established
2003
Program Description
A summit of International authors and writers at various stages of their Literary Career. Stimulating talks, interviews, readings, Q&A's, writing workshops from Award Winning Authors.
Number of Programs/Year
2
Program Length
7 days
Group Size or S:T Ratio
Group 50, workshop 6-12
Program Focus
Autobiography/Memoir, Fiction, Journalism, Marketing, Mystery, Non-fiction, Poetry, Publishing, Travel, Young Adult
Faculty
RAE ARMANTROUT--Pulitzer Prize Poetry, ROBERT OLEN BUTLER - Pulitzer Prize Fiction, CLAUDIA EMERSON- Pulitzer Prize Poetry, NIKKY FINNEY--NBW Poetry, PAUL HARDING--Pulitzer Prize Fiction, TERRACE HAYES-NBW Poetry, JANE SMILEY--Pulitzer Prize Fiction
Costs
Price begins at $1,390+ depends on accommodations and number of workshops.
U.S. Locations
San Francisco Bay Area, California

Global Locations
LAKE COMO, Italy
Granada, Spain

Months
June, December
Sponsor's Facebook Page
www.facebook.com/pages/Abroad-Writers-Conference/161146313936821
Contact
Nancy Gerbault
Founding Director
Abroad Writers' Conferences
17363 Sutter Creek Rd.
Sutter Creek, CA 95685
United States
Phone:

209-296-4052


E-Mail: