| | |
| --- | --- |
| | Abroad Writers' Conference |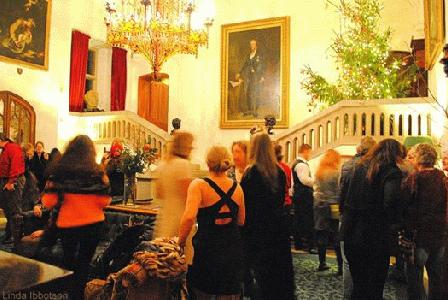 Welcome to Abroad Writers' Conference.


Our conference are led by some of the worlds most talented authors, poets and screenwriters. Stimulating talks, readings, Q&A's, writing workshops, private consultations and social gatherings all take place within a week. Abroad Writers' Conference promises you true networking opportunities and full detailed feedback on your writing.

Abroad Writers' Conference is a totally unique experience. We hold our events in magnificent settings, historic castles and villas. There we have intensive writing workshops held throughout the day followed by drinks and our nightly readings. Dinner is a grand event. Chef Alison Negrin former executive chef at Chez Panisse--listed as one of the Best Restaurants in the World--will prepare a 4 course dinner w/wine.

We believe in treating writers special and giving them an experience of a lifetime.

OWLPEN MANOR, Cotswolds, England Jan 12 - 19, 2015

Owlpen Manor is recognized as on of the most romantic manor houses in England. It's situated in the royal triangle in the Cotswolds. The manor house dates back to the c.1200 but it was rebuilt in the Tudor period between 1464 – 1616. Owlpen Manor has been the inspiration and title of a number of 20th-century poems, including well-known verses by U.A. Fanthorpe, John Burnside and Reginald Arkell. The house is reputed to have inspired scenes in novels by John Buchan and Wolfgang Hildesheimer.

Click for more info.
Website
www.abroad-crwf.com
Year Established
2003
Program Description
A summit of International authors and writers at various stages of their Literary Career. Stimulating talks, interviews, readings, Q&A's, writing workshops from Award Winning Authors.
Number of Programs/Year
2
Program Length
7 days
Group Size or S:T Ratio
Group 50, workshop 6-12
Program Focus
Autobiography/Memoir, Fiction, Journalism, Marketing, Mystery, Non-fiction, Poetry, Publishing, Travel, Young Adult
Faculty
RAE ARMANTROUT--Pulitzer Prize Poetry, ROBERT OLEN BUTLER - Pulitzer Prize Fiction, CLAUDIA EMERSON- Pulitzer Prize Poetry, NIKKY FINNEY--NBW Poetry, PAUL HARDING--Pulitzer Prize Fiction, TERRACE HAYES-NBW Poetry, JANE SMILEY--Pulitzer Prize Fiction
Costs
Price begins at $1,390+ depends on accommodations and number of workshops.
U.S. Locations
San Francisco Bay Area, California

Global Locations
LAKE COMO, Italy
Granada, Spain

Months
June, December
Sponsor's Facebook Page
www.facebook.com/pages/Abroad-Writers-Conference/161146313936821
Contact
Nancy Gerbault
Founding Director
Abroad Writers' Conferences
17363 Sutter Creek Rd.
Sutter Creek, CA 95685
United States
Phone:

209-296-4052


E-Mail: