| | |
| --- | --- |
| | Algonkian Novel Writing Courses and Program |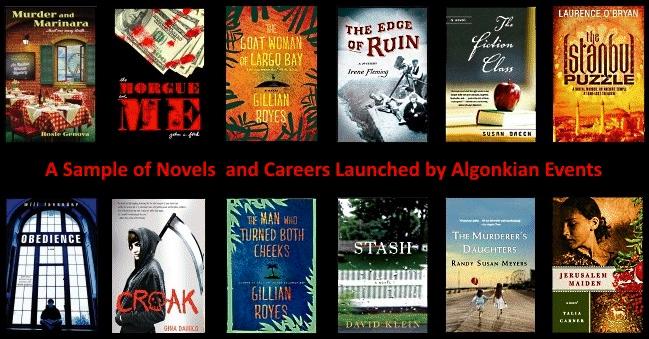 ____
|

ALGONKIAN NOVEL WRITING COURSES AND PROGRAM

Mystery/Thriller, Suspense, Women's Fiction, Literary/Upmarket, Sci-fi and Fantasy (ADULT/YA/MG),
Young Adult and Middle Grade, Historical and General Fiction



This is unquestionably the best novel writing program online, not only because of its methodology and references, but because it enables you to consult with a professional in the commercial novel writing business, and once accomplished, directly pitch literary agents in our own forums when you are ready. No other program comes close to this.

The Algonkian organization of programs and events has proved itself, time and time again, to be more successful than competitors when it comes to leading writers to agent and publishing contracts. As a bonus, writers don't have to spend several thousand on half a dozen or more writing program classes, or worse yet, up to $10,000 or more on an MFA-like college program with ill-qualified academic instructors.

- Michael Neff, Algonkian Director



|



In this series of novel writing courses we enable you to write or rewrite your novel a step at a time through each successive course module while reality-checking the core elements of your novel-in-progress.

What you receive:

1) A review by program faculty of your story premise and all major novel elements, as well as your prose narrative, for purposes of determining your competitive status vs. other writers in your genre.
2) A thorough outline of all your novel's plot beats and points.
3) 100 pages or more of your novel, or narrative non-f, in competitively polished shape.
4) A working-knowledge of the most highly regarded, industry-accepted techniques for craft writing, resulting in a personalized and competitive narrative style.
5) A realistic publication plan going forward based on your manuscript's current stage of development, as well as your writing skills.
6) Phone consults with faculty to support your development of a professional agent query letter (if you and the faculty agree the time is right).
7) Literary agent pitch forums.

See our home page for more information.

Our goal is to hone your ms, secure you representation, and get you published.

No one can do it better than Algonkian. Truly.
Website
novelwriting.algonkianconferences.com
Year Established
2013
Program Description
The Algonkian Novel Writing Program and Courses realistically prep and edit your novel manuscript, regardless of stage or genre, for commercial publication.
Number of Programs/Year
Ongoing
Program Length
16 to 25 Weeks Average
Group Size or S:T Ratio
1:1
Program Focus
Fiction, Humor, Mystery, Romance, Science Fiction/Fantasy, Young Adult, Autobiography/Memoir, Non-fiction
Faculty
Literary agent-author Paula Munier, agent-editor Michelle Richter, and agent-author-editor Michael Neff.
Costs
$799.00 for both parts or courses, for a total of 16 modules.
U.S. Locations
California
Colorado
Connecticut
District of Columbia
District of Columbia
Florida
Illinois
Illinois
Massachusetts
New York
North Carolina
Oregon
Pennsylvania
Virginia
Washington

Global Locations
England
Internet

Months
Year round
Sponsor's Calendar Link
novelwriting.algonkianconferences.com
Sponsor's Facebook Page
www.facebook.com/pages/Author-Salon/336158346412805
Contact
Connie Chenowith
Administrator III
Author Salon
888c 8th Ave
New York, NY 10019
United States
E-Mail: