| | |
| --- | --- |
| | Colgate Writers' Conference |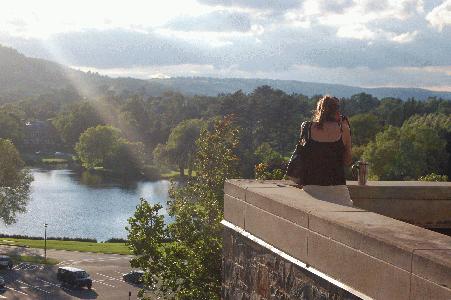 Colgate Writers' Conference


June 17-23, 2018


Our senior staff is here to talk with you about writing and the writing life, and to work with you on your fiction, poetry, novel, or creative nonfiction. Whether you are a veteran writer or a novice, we offer a full schedule of consultations, workshops, craft talks, panel discussions, readings, and informal conversations that will sustain your long-range efforts or help you get started.

Participant Comments
"Very knowledgeable instructors, combined honesty with pleasant encouragement, [and were] generous with their time."
"You taught, guided, and encouraged us to be better writers. You did this with heart."

Manuscripts
Each participant submits a manuscript to be discussed in class. In addition, instructors schedule personal conferences concerning each participant's manuscript. Our novel and creative nonfiction workshops accept hundreds of pages, not just a chapter or two.

Shop Talks
Agents, editors and publishers share tips of the trade.

Craft Talks
Each day, a faculty member will conduct a craft talk, which includes writing tips and discussion.

Workshops
Workshops take place daily in small groups. Participant manuscripts are discussed, writing strategies practiced. Intense workshops allow every participant to receive personalized instruction throughout the week.

Evening Activities
Readings by renowned writers, open mics, music, participant readings, and other social gatherings.

Faculty
The faculty and readers include 2016 Pulitzer Prize winning poet Peter Balakian; fiction writers Brock Clarke, Brian Hall, CJ Hauser, and Naomi Jackson; creative nonfiction writers Bill Barich, Jennifer Brice, and David Ryan; and poets Bruce Smith and Javier Zamora.



For more information visit our website at www.colgate.edu/writersconference.

Website
www.colgate.edu/writersconference
Year Established
1996
Program Description
Morning craft talks & workshops. Individual consultation with workshop instructor in the afternoon. Late afternoon participant readings and talks on publishing, storytelling. Evening readings by instructors & guests. Late night social events.
Upcoming Event
Colgate Writers' Conference
Jun 17 - 23, 2018
Venue: Colgate University,

13 Oak Drive

,

Hamilton

NY

(Map/Directions)

Number of Programs/Year
1
Program Length
7 days
Group Size or S:T Ratio
40-60
Program Focus
Publishing, Poetry, Fiction, Non-fiction
Faculty
Faculty and readers include fiction writers Brock Clarke, Brian Hall, CJ Hauser, and Naomi Jackson; creative nonfiction writers Bill Barich, Jennifer Brice, and David Ryan; and poets Peter Balakian, Bruce Smith, and Javier Zamora.
Costs
Creative Nonfiction: $1,800 Novel: $1,800 Poetry: $1,250 Short Fiction: $1,250 Writers' Retreat: $750 Rates include room and board for the week. (See website for commuter rates.) Discounts and fellowships available!
U.S. Locations
Hamilton, New York

Months
June
Sponsor's Facebook Page
www.facebook.com/colgatewritersconference
Contact
Matt Leone
Director
Colgate Writers' Conference
Office of Summer Programs, Colgate University, 13 Oak Drive
Hamilton, NY 13346
United States
Phone:

315-228-7771, 315-228-7770


E-Mail:


E-mail Director Matt Leone: mleone@colgate.edu