| | |
| --- | --- |
| | James Bonnet's Storymaking Workshops in France and California |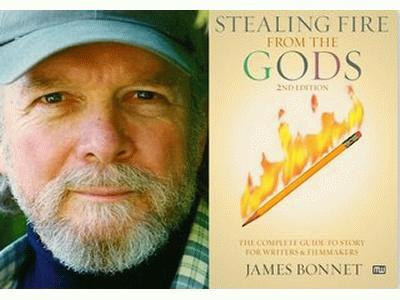 7 Day Storymaking Retreats in France for Novelists and Screenwriters
October 6-12 and October 15-21, 2018




One-on-one with James Bonnet for seven days in a beautiful chateau in France

Start a new project, develop a work-in-progress, take your story to the next level

Master the art of your novel or screenplay through an understanding of story



These private sessions in Nans sous Sainte Anne, France, with James Bonnet, the author of Stealing Fire from the Gods: The Complete Guide to Story for Writers and Filmmakers, and considered by many to be the leading authority in all things related to story and storymaking, will take you beyond Three Acts and The Hero's Journey to a more complete understanding of the story principles you will need to create successful novels and story films that are significant, enduring and have universal appeal.

As we begin our journey together, we will take an in-depth look at the essence of story – that without which there would be no story - and the hidden structures all great stories have in common. Then as we continue to fine tune your story, you will experience the source of your creativity, how to create charismatic characters, narrative structures that will make your story unique, and high concept great ideas and log lines that will generate excitement and compel the right people to get involved.

Autumn in eastern France is tranquil and beautiful — the perfect place for a creative writing adventure. Each evening we will gather together to discuss important films or books over a delicious dinner and excellent wine.

Similar program is also available in September near the beach in Santa Monica, California. See our website for details.
Website
www.storymaking.com
Year Established
1990
Program Description
Story seminars, writing workshop/retreats, private story consulting devoted to mastering the art of the novel and screenplay through an understanding of story.
Number of Programs/Year
3
Program Length
Workshop 7 days
Group Size or S:T Ratio
Workshop 4-5
Program Focus
Science Fiction/Fantasy, Screenwriting, Autobiography/Memoir, Mystery, Fiction, Young Adult, Non-fiction
Faculty
James Bonnet, author of Stealing Fire from the Gods, is an internationally known writer and story consultant. Elected twice to the Board of Directors of the Writers Guild of America, he has written or acted in more than forty TV shows and features.
Costs
Writing workshop retreat: $1,750, early registration: $1,650; project analysis & feedback: screenplay $1,500, novel $2,000 up to 300 pages; story consultation and collaboration by negotiated contract.
U.S. Locations
Santa Monica, California

Global Locations
France

Months
September, October
Sponsor's Calendar Link
www.storymaking.com/novel-and-screenwriting-workshop-retreats-in-france
Contact
James Bonnet
Astoria Filmwrights
927 6th Street
Santa Monica, CA 90403
United States
Phone:

310 451 5418


E-Mail: