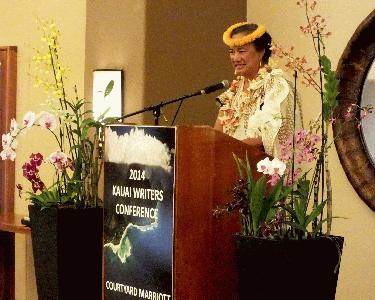 KAUAI WRITERS CONFERENCE, May 1-3, 2015


www.kauaiwritersconference.com

Join us for three days of exploring and honing writing craft and improving publication odds on the breathtaking, healing island of Kauai.

Presenting authors include: Colson Whitehead (The Intutionist, Pulitzer nominee), Kristin Hannah (author of the blockbuster Firefly Lane), Laura Moriarty (The Chaperone, being made into a major motion picture), Vanessa Diffenbaugh (The Language of Flowers, being made into a major motion picture), Priya Parmar (Vanessa and Her Sisters, a New York Times Book Review 'Editor's Choice' selection, an Entertainment Weekly 'Must List' pick, a People Magazine Book of the Week and so on), Lynn Cox (Swimming to Antarctica), and Jill Landis (26 bestselling novels).

Literary agents who will present and be available to offer critiques and take pitches include Elizabeth Kracht (Kimberly Cameron), Julie Barer (Barer Literary), Andy Ross (Andy Ross Literary), and John Rudolph(Dystel and Goderich, remote), as well as acquisitions editor Silessa Kenney from St. Martin's Press. There will also be self-publishing and social media experts on the panels.

Other highlights include an opening ceremony Hawaiian style, led by Kumu Sabra Kakau and her hula halau, participant readings, and a beach party with entertainment that's in the works.

The Kauai Writers Conference is dedicated to helping writers develop their skills while connecting to bestselling authors and top agents in a supportive, respectful environment. With only 150 attendees, the conference provides an intimate experience, direct access to faculty, and a strong community building emphasis. The schedule is chock-a-block with opportunities to receive essential feedback on your writing and to do hands-on skill building. You'll find humane opportunities to pitch literary agents and editors and to receive honest, helpful feedback from them. And of course, this all takes place in Hawaii on the most gorgeous island on the planet, where you'll receive abundant inspiration for your creative writing project.

The conference fee of $429 includes breakfast and lunch all three days, and oceanfront rooms start at $99. Don't hesitate to call 808-639-4638 with questions.
Website
www.kauaiwritersconference.com
Year Established
2014
Program Description
Join bestselling authors and agents in an intimate, oceanfront setting, with an emphasis on fiction and memoir. Program includes in-depth sessions on craft, publishing, and the writing life, with opportunities for agent/editor feedback.
Number of Programs/Year
1
Program Length
3 days
Group Size or S:T Ratio
Under 150
Program Focus
Autobiography/Memoir, Fiction, Marketing, Publishing
Faculty
Priya Parmar (Vanessa & Her Sister), Kristin Hannah (Firefly Lane}, Colson Whitehead (Intutionist), Vanessa Diffenbaugh (Language of Flowers), Laura Moriarty (The Chaperone), Jill Landis (26 books), Lynn Cox (Swimming to Antarctica), top agents & editors.
Costs
$429 includes breakfast, lunch, all programs, Hawaiian entertainment & social events. Critiques & pitch sessions additional $50. Oceanfront rooms start at $99 special conference rate.
U.S. Locations
Kapaa, Hawaii

Months
May
Sponsor's Calendar Link
www.kauaiwritersconference.com/workshop-agenda.html
Sponsor's Facebook Page
www.facebook.com/kauaiwritersconference
Contact
Hiyaguha Cohen
Writer
Write-On Kauai
6206 Helena Lane
Kapaa, Hawaii 96746
United States
Phone:

808-639-4517


E-Mail:


David Rosenberg