| | |
| --- | --- |
| | Maranatha Christian Writers' Conference |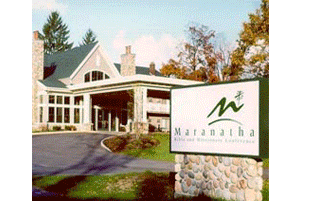 Join us for our 37th Year!

September 15-18, 2014 • Lake Michigan, near Muskegon, Michigan


Are you looking to take your writing to the next level? Both beginners and experienced writers have a rare opportunity to receive guidance through creative group sessions, 30 elective workshops, and one-on-one consultations. Leaders with a passion for serving developing Christian writers are planning to help you meet goals and discover new opportunities. Early Bird registration ends August 15! Register by September 1st as space is limited.
Learn more and register at http://www.writewithpurpose.com/site/



For more information call (231) 798-2161, email info@WriteWithPurpose.org or visit http://www.WriteWithPurpose.org.
Website
maranathachristianwriters.com
Year Established
1977
Program Description
MCWC features keynotes, panels, 45+ elective workshops, continuing courses,critique sessions, and one-on-one consultations with editors, publishers and agents. Contests inclde cash prizes. Focus is on having the best experts provide personal attention.
Number of Programs/Year
1
Program Length
4 days
Group Size or S:T Ratio
125
Program Focus
Children's, Fiction, Humor, Journalism, Marketing, Mystery, Non-fiction, Poetry, Publishing, Religion, Science Fiction/Fantasy, Travel, Young Adult
Faculty
2014: Carol Kent, Bryan Davis, Dave & Cindy Lambert, John Chisum, Tim Haines, Jay Payleitner, Gail Gaymer Martin, Crystal Bowman, Cliff Graham, Lissa Halls Johnson, Eddie Jones, Jim Watkins, Colleen and Newell Cerak
Costs
Discounted packages for food and/or lodging-see the website. Double occupancy all-inclusive package is $676. Single occupancy is $698. Daily rates. Cottages available for writers' groups. Located on the shore of Lake Michigan. Scholarships available.
U.S. Locations
Muskegon, Michigan

Months
September
Sponsor's Facebook Page
www.facebook.com/pages/Maranatha-Christian-Writers-Conference/89163268951
Contact
Maranatha Christian Writers' Conference Topliff
Maranatha Christian Writers' Conference
131 Division Ave SE
Grand Rapids, MI 49503
United States
Phone:

260.494.7112


E-Mail: