| | |
| --- | --- |
| | The Writer's Hotel Master Class in Fiction, Nonfiction & Poetry |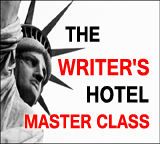 Ready to take your writing to NYC? We will help you every step of the way.

The Writer's Hotel Master Class is a hybrid. TWH is part residency and part conference with all the important components of low residency mentorship built in. TWH is the only writing conference with a pre-conference editing service. We edit your target manuscript before the conference, and even work with you afterwards for two weeks.

Each experience is tailored; some writers seek coaching and some editing. We are writers ourselves, and we carefully designed our program so that our fellow writers would have all the coaching and help they need--not just a quick conference, but a full service beginning months before the conference and ending a few weeks afterwards. Our goal is simple: we want you to be the best writer you can be. The sooner you're accepted, the sooner we can get to work with you on your manuscript. In NYC, you'll participate in intense craft workshops and you'll attend lectures and literary events. You also get a reading in the city.

It's free to apply. Just send in a 20-25 page writing sample via this submission manager. We will carefully review your sample and then we'll contact you for a brief phone interview, so that we can talk about your writing and your writing goals.

Deadline is April 1, 2015. Early acceptance means extra editing time with TWH Editors pre- conference. We expect to fill up before deadline. Space is limited, and early applications are strongly encouraged.
Website
www.newguardreview.com/#tabTHEWRITERSHOTEL
Year Established
2009
Program Description
TWH is the only conference with a pre-conference editing service. We coach from acceptance to conference. In NYC: Workshops, lectures, agents, panels and literary events. Floating campus between three Midtown hotels. Each writer gets a reading in NYC.
Upcoming Event
The Writer's Hotel Master Class in Fiction, Nonfiction & Poetry
Jun 10 - 16, 2015
Venue: The Bryant Park Hotel, Library Hotel, The Algonquin Hotel,

Midtown Manhattan

,

NYC

NY

(Map/Directions)

Number of Programs/Year
1
Program Length
6 nights
Group Size or S:T Ratio
1/6
Program Focus
Autobiography/Memoir, Fiction, Horror, Humor, Journalism, Marketing, Mystery, Nature, Non-fiction, Poetry, Publishing, Romance, Science Fiction/Fantasy, Travel, Young Adult
Faculty
Workshop instructors: Stephen Dunn, Elyssa East, Richard Hoffman, Scott Wolven and Shanna McNair. Guest Lecturers: Zach Zamboni, Wesley McNair, Barbara Hurd & Kathleen Aguero.
Costs
$2500 tuition
U.S. Locations
New York, New York

Months
June
Sponsor's Facebook Page
www.facebook.com/TheWritersHotel
Contact
Shanna McNair
Founder & Director
The Writer's Hotel & TNG
PO Box 5101
Hanover, NH 03755
United States
E-Mail: