| | |
| --- | --- |
| | Tin House Winter Writer's Workshop |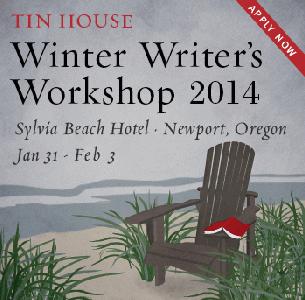 The Tin House Writer's Workshop

Portland, Oregon
July 13-20, 2014



The Tin House Summer Writer's Workshop is a weeklong intensive of workshops, seminars, panels, and readings led by the editors of Tin House magazine and Tin House Books and their guests – prominent contemporary American writers of fiction, nonfiction, and poetry. The program combines morning workshops with afternoon craft seminars and career panels. Evenings are reserved for author readings and revelry.

Workshops meet for six sessions, Monday through Saturday, from 10 a.m. until 12:30 p.m. Each workshop will have no more than twelve students and will treat two to three manuscripts per session. You may only enroll in one workshop.

Tin House editors and guest agents are available to meet individually with students throughout the week. For students who have completed a collection of stories or poems, a memoir, or a novel, one-on-one mentorships are available with select faculty and staff for an additional fee.

Space is limited, so we encourage applicants to apply as soon as possible.



For more information call 503-219-0622, e-mail lance@tinhouse.com or visit our website at http://www.tinhouse.com.
Website
www.tinhouse.com/writers-workshop/
Year Established
2013
Program Description
Weeklong intensive of workshops, seminars, panels, and readings led by the editors of Tin House magazine and Tin House Books and their guests – prominent contemporary American writers of fiction, nonfiction, and poetry.
Upcoming Event
The Tin House Summer Writer's Workshop
Jul 13 - 20, 2014
Venue: Reed College,

3203 Southeast Woodstock Boulevard

,

Portland

OR

(Map/Directions)

Number of Programs/Year
2
Program Length
8 days
Group Size or S:T Ratio
6:1
Program Focus
Fiction, Publishing
Faculty
Ann Hood, Anthony Doerr, Antonya Nelson, Dana Spiotta, Dorothy Allison, Jo Ann Beard, Jonathan Dee, Joy Williams, Kelly Link,Kevin Young,Mary Ruefle,Matthew Zapruder,Meredith Kaffel,Nick Flynn,Robert Boswell,Sarah Burnes,Sarah Shun-lien Bynum,Wells Tower
Costs
Application fee: $40; Tuition: $1100; Food & Lodging: $600.00 A true hotel for book lovers, the Sylvia Beach Hotel offers 21 individually decorated rooms based on some of the world's most famous authors.
U.S. Locations
Portland, Oregon

Months
January, February, July
Sponsor's Calendar Link
www.tinhouse.com/writers-workshop/program.html
Sponsor's Facebook Page
www.facebook.com/tinhouse
Contact
Lance Cleland
Director
Tin House
PO Box 10500
Portland, OR 97210
United States
Phone:

503-219-0622


E-Mail:




Updated: 04-16-2014