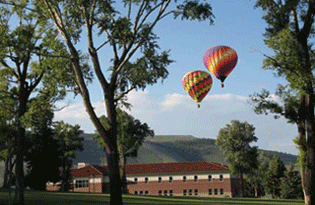 Writing the Rockies

July 2014 • Gunnison, Colorado


Set in the beautiful Gunnison Valley of the central Colorado Rockies on the campus of Western State Colorado University, the Gunnison Creative Writers Workshop offers valuable learning tools in an inspiring setting.

Two-hour morning and afternoon concurrent tracks are scheduled in: mainstream (narrative nonfiction)/genre fiction, poetry, and screenwriting. Attendees can concentrate on a single track of interest during the course of the conference, or "mix and match" sessions as desired. A keynote address devoted to one of the three tracks precedes each session.

Other activities include panel discussions, readings by nationally acclaimed authors, screenings, one-on-one pitch and manuscript critique sessions, and open mic for attendees.

Workshop faculty members have a broad range of published works, including fiction, non-fiction, poetry, screenwriting, and magazine article writing. Working with participants of all levels, our featured faculty will help writers hone their craft through lectures and will mix with participants during events outside of workshop sessions. Attendees can talk at leisure to agents and book publishers or sign up for pitches.

Gunnison Country recreational activities include hiking, fishing, biking, kayaking, and climbing. Thirty minutes away, the ski resort town of Crested Butte offers outdoor and cultural events as well as shopping and dining.



For more information call 1-800-876-3086, Ext. 7, mtodd@western.edu or visit our website at Writing the Rockies.
Website
www.western.edu/wtr
Year Established
2002
Program Description
Morning presentations & concurrent sessions, afternoon panels, evening readings & discussions, one-to-one visits with faculty for critiques & pitches. Sponsored by Western State Colorado University.
Upcoming Event
Writing the Rockies 2014
Jul 24 - 26, 2014
Venue: Western State Colorado University Taylor Hall,

600 North Adams Street

,

Gunnison

CO

(Map/Directions)

Number of Programs/Year
1
Program Length
3 days
Group Size or S:T Ratio
40-50
Program Focus
Autobiography/Memoir, Fiction, Humor, Journalism, Mystery, Nature, Non-fiction, Playwriting, Poetry, Publishing, Romance, Science Fiction/Fantasy, Screenwriting, Travel, Young Adult
Faculty
Published novelists, non-fiction writers,sci-fi writers, poets, Hollywood screenwriters, freelance magazine writers, book publishers and agents.
Costs
$325
U.S. Locations
Gunnison, Colorado

Months
July
Sponsor's Calendar Link
www.western.edu/academics/writing-rockies/schedule-writing-rockies-2013
Sponsor's Facebook Page
www.facebook.com/WesternStateColoradoUniversity
Contact
Dr. Mark Todd
Co-Coordinator
Writing the Rockies
Western State Colorado University
Gunnison, CO 81231
United States
Phone:

970-943-2016


Fax: 970-943-7068
E-Mail:


Extended University Studies, extendedstudies@western.edu 800-876-5309, ext 7