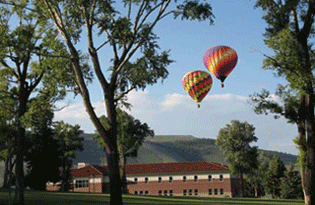 Writing the Rockies

July 2016• Gunnison, Colorado


Set in the beautiful Gunnison Valley of the central Colorado Rockies on the campus of Western State Colorado University, Writing the Rockies is one of the strongest creative writing conferences in the west.

New for 2016 are greatly expanded offerings in poetry, including more workshops, critical seminars, and our ongoing Symposium in Poetry Criticism. Also new is access to a state-of-the-art movie theater for screenings on campus.

We offer morning and afternoon concurrent tracks in genre fiction, poetry, publishing and screenwriting. Attendees can concentrate on a single track of interest during the course of the conference, or combine sessions. All tracks include not only workshops but also keynotes and other events.

Other activities include panel discussions, critical seminars, readings by nationally acclaimed authors, screenings, one-on-one pitch and manuscript critique sessions, an open mic for attendees and many special events.

Faculty have national reputations,

Gunnison Country is one of the most beautiful high alpine valleys in the country. Recreational activities include hiking, fishing, biking, kayaking, and climbing. Thirty minutes away, the ski resort town of Crested Butte offers outdoor and cultural events as well as shopping and dining.



For more information call 1-800-876-3086, Ext. 7, mtodd@western.edu or visit our website at Writing the Rockies.
Website
www.western.edu/wtr
Year Established
2002
Program Description
Workshops, readings, panels, seminars and other events in poetry, genre fiction, screenwriting and publishing. One-to-one visits with faculty for critiques & pitches. Sponsored by Graduate Program in Creative Writing, Western State Colorado University.
Number of Programs/Year
1
Program Length
5 days
Group Size or S:T Ratio
6-10:1
Program Focus
Fiction, Horror, Mystery, Poetry, Publishing, Romance, Science Fiction/Fantasy, Screenwriting, Young Adult
Faculty
2016 Poetry: Fred Turner, Kim Bridgford, Dave Mason, Emily Grosholz, Marilyn Taylor, Tom Cable, many more. Screenwriting: JS Mayank, Genre Fiction: Russell Davis, Michaela Roessner, Diana Tixier Herald Publishing: Caleb Seeling, Larry Meredith, T
Costs
Check site for details and rates.
U.S. Locations
Gunnison, Colorado

Months
July
Sponsor's Calendar Link
www.western.edu/academics/graduate-programs-western/creative-writing/writing-rockies-2016
Sponsor's Facebook Page
www.facebook.com/WesternStateColoradoUniversity
Contact
Dr. Mark Todd
Co-Coordinator
Writing the Rockies
Western State Colorado University
Gunnison, CO 81231
United States
Phone:

970-943-2016


Fax: 970-943-7068
E-Mail:


Extended Studies,extendedstudies@western.edu 800-876-5309, ext 7