| | |
| --- | --- |
| | Green River Writers Workshops:Turning Memory into Story: Memoir Writing Workshop |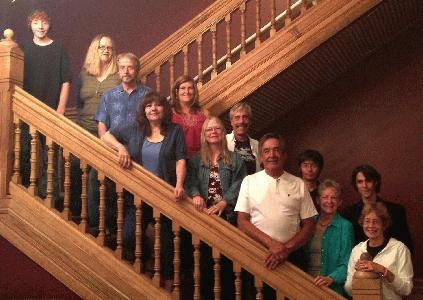 Green River Writers Workshops: Turning memory into story.


July 17-20, 2014 Las Vegas, New Mexico

In these memoir writing workshops, we focus on crafting a readable story, guided by the question "Why does a reader put down one book and keep reading another?"

Workshop leaders: Gerald and Loretta Hausman are authors of over 70 books (Gerry's recent book, The Otter, the Spotted Frog and the Great Flood received rave reviews.) The Hausmans are publishers (Irie Books), editors, and popular presenters. Alice Winston Carney, author of A Cowgirl in Search of a Horse, has published articles in newspapers and magazines and blogs regularly on "Snapshots: Writing your Story." The Hausmans and Carney started Green River Writer Workshops almost ten years ago, bringing together people who are serious about learning the craft of writing.

What makes our workshops unique, and why people return year after year, is that we push participants to write and expand their skills in an environment that is intimate, supportive, and noncompetitive. We address memoir in many forms, including historical memoir, poetry, and fiction.

Since the start of the Green River Writers Workshops, many participants have published their own books, they have learned how to edit and rewrite their work, and they have found comfort in having friends who appreciate their work.

Take your writing to the next level. Come write with us in Texas or New Mexico.
Website
greenriverwritersworkshops.com/
Year Established
2008
Program Description
Writing-intensive program using memoir as a starting point. For experienced and beginning writers. Focus on the crafts of writing and storytelling, and the evolving world of publishing.
Upcoming Event
Seventh Annual Memoir Writing Workshop
Jul 17 - 20, 2014
Venue: Historic Plaza Hotel,

230 Plaza Park

,

Las Vegas

NM

(Map/Directions)

Number of Programs/Year
1
Program Length
July, three days
Group Size or S:T Ratio
15/3
Program Focus
Autobiography/Memoir, Fiction, Publishing
Faculty
Gerald Hausman Loretta Hausman Alice Winston Carney
Costs
Las Vegas, New Mexico in July: $300 Room and board not included
U.S. Locations
Las Vegas, New Mexico
Fredericksburg, Texas

Months
July
Sponsor's Calendar Link
greenriverwritersworkshops.com/workshop.html
Sponsor's Facebook Page
www.facebook.com/groups/130181647048446/
Contact
Alice Carney
Director
Green River Workships
345 36th Way
Sacramento, CA 95816
United States
Phone:

916-440-6551


E-Mail:


Fredericksburg Art School http://www.fbgartschool.com/ 503 E. Schubert Fredericksburg, Texas 78624 Telephone - 830-997-0515 E-mail - bush@fbgartschool.com