| | |
| --- | --- |
| | Murphy Writing of Stockton University |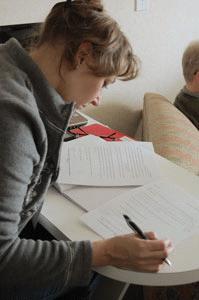 About Murphy Writing of Stockton University - Our Philosophy
Escape the distractions of your busy life. Advance your craft and energize your writing with a challenging and supportive Writing Getaway. Join us at a retreat in the US or abroad, and take advantage of plentiful writing time, insightful feedback, good meals and good company. View all of our upcoming programs.



FEATURED PROGRAM

Murphy Writing of Stockton University Presents
Poetry Chapbook Workshop
Part of Live Free and Write: A New Hampshire Getaway for Writers
August 14-19, 2016 - Sunapee, NH

In this intensive but supportive workshop, we will learn how to move a batch of poems into a well-crafted chapbook-length manuscript. Working as each other's editors and collaborators, we will explore methods to order, group and title our poetry collections to maximize thematic impact. We will consider what to include and what to exclude. We will also discuss how and where to submit our "book" for publication. The workshop leader and participants will read each manuscript before the retreat.

Limited to 8 participants—Led by Lois Marie Harrod, author of 16 books of poetry

"I've never done an overnight writing retreat before and was amazed at how much writing happened just being away from home. The atmosphere was perfect: open, honest, sincere and so encouraging. Definitely worth the money, the drive and the time!" ~ Anne, Belmont, MA

Learn more and register today.
Website
stockton.edu/murphywriting
Year Established
1994
Program Description
Escape the distractions of your busy life. Advance your craft and energize your writing with a challenging and supportive Writing Getaway. Enjoy plentiful writing time, insightful feedback, good meals and good company. Get Away to Write.
Upcoming Events
Get Away to Write - Scotland
Jul 28 - Aug 5, 2016
Venue: University of Dundee,

Nethergate, Dundee DD1 4HN, United Kingdom

,

Dundee, Scotland


Live Free and Write
Aug 14 - 19, 2016
Venue: Dexter's Inn,

258 Stagecoach Rd

,

Sunapee

NH

(Map/Directions)
Shore Thing Writing Getaway
Sep 3 2016
Venue: Dante Hall Theater,

14 N Mississippi Ave

,

Atlantic City

NJ

(Map/Directions)
Autumn Writing Getaway
Nov 5 2016
Venue: Stockton University,

101 Vera King Farris Drive

,

Galloway

NJ

(Map/Directions)
Winter Poetry & Prose Getaway
Jan 13 - 16, 2017
Venue: Stockton Seaview Hotel,

401 S New York Rd

,

Galloway

NJ

(Map/Directions)
Writing in the Pines
Apr 8 2017
Venue: Stockton University,

101 Vera King Farris Drive

,

Galloway

NJ

(Map/Directions)

Number of Programs/Year
10
Program Length
1 to 8 days (Varies)
Group Size or S:T Ratio
Varies
Program Focus
Autobiography/Memoir, Business/Technical, Children's, Fiction, Horror, Humor, Journalism, Mystery, Nature, Non-fiction, Playwriting, Poetry, Romance, Science Fiction/Fantasy, Screenwriting, Travel, Young Adult
Faculty
2016 faculty includes Peter E. Murphy, Lois Marie Harrod and Mimi Schwartz.
Costs
Varies by program. **Scholarships and early registration discounts available** See website for details.
U.S. Locations
New Hampshire
New Jersey

Global Locations
Scotland,
Wales,
Spain
United Kingdom

Months
January, April, May, June, July, August, September, November
Sponsor's Calendar Link
www.murphywriting.com/writing-getaways.html
Sponsor's Facebook Page
www.facebook.com/murphywriting
Contact
Peter Murphy
Murphy Writing of Stockton University
35 S Dr Martin Luther King Blvd
Atlantic City, NJ 08401
United States
Phone:

609-626-3594


E-Mail: