| | |
| --- | --- |
| | Murphy Writing of Stockton University |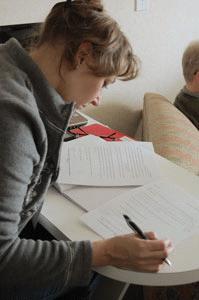 FEATURED PROGRAMS

Murphy Writing of Stockton University Presents:

Online Writing Critique
A web-based feedback service for poets and writers
First of every month
Strengthen your craft and deepen your writing with our Online Writing Critique service. Get supportive, insightful feedback without leaving the comfort of your home.

Autumn Writing Getaway
A one day fall retreat for poets and writers
November 9, 2019 - Galloway, NJ
Fall into this mid-autumn retreat in the heart of the Jersey Pinelands to harvest some new writing.

Winter Poetry & Prose Getaway
A supportive, participant-focused writers' conference
January 17-20, 2020 - Atlantic City, NJ area
Special Guests: Yusef Komunyakaa and Denise Duhamel. Enjoy challenging and supportive workshops, insightful feedback and an encouraging community. Choose from workshops in poetry, fiction, nonfiction, memoir and more.

Scholarships available. Register early and save.

***

"I had a better, more enriching experience at the retreat than in the book-writing group I attended for over a year. Our workshop leader was at the top of the scale, keeping the workshop supportive and inspiring."
~ Juliet, Brooklyn, NY

Learn more and register today.


View our upcoming programs.
Website
stockton.edu/murphywriting
Year Established
1994
Program Description
Escape the distractions of your busy life. Advance your craft and energize your writing with a challenging and supportive Writing Getaway. Enjoy plentiful writing time, insightful feedback, good meals and good company. Get Away to Write.
Upcoming Events
Autumn Writing Getaway
Nov 9 2019
Venue: Stockton University,

101 Vera King Farris Drive

,

Galloway

NJ

(Map/Directions)
Winter Poetry & Prose Getaway
Jan 17 - 20, 2020
Venue: Seaview Hotel,

401 S New York Rd.

,

Galloway

NJ

(Map/Directions)
Publishing Workshop
Feb 22 2020
Venue: Stockton University Kramer Hall,

30 Front Street

,

Hammonton

NJ

(Map/Directions)
Get Away to Write - Florida
Mar 15 - 20, 2020
Venue: Atlantic Center for the Arts,

1414 Art Center Ave.

,

New Smyrna Beach

FL

(Map/Directions)
Writing in the Pines
Apr 25 2020
Venue: Stockton University,

101 Vera King Farris Drive

,

Galloway

NJ

(Map/Directions)
Shore Thing Writing Getaway
May 23 2020
Venue: Stockton University Atlantic City,

3711 Atlantic Ave.

,

Atlantic City

NJ

(Map/Directions)
Get Away to Write - Spain
Jul 7 - 14, 2020
Venue: L'Avenc de Tavertet,

Catalonia

,

Spain



Number of Programs/Year
10
Program Length
1 to 8 days (Varies)
Group Size or S:T Ratio
Varies
Program Focus
Humor, Journalism, Nature, Playwriting, Science Fiction/Fantasy, Screenwriting, Travel, Business/Technical, Romance, Poetry, Autobiography/Memoir, Mystery, Fiction, Young Adult, Horror, Non-fiction, Children's
Faculty
Current and past faculty includes Stephen Dunn, Sharon Olds, Yusef Komunyakaa, Denise Duhamel, Gregory Pardlo, Barbara Hurd, Kathleen Graber, Carol Plum-Ucci, James Richardson, Mimi Schwartz, Peter E. Murphy and more.
Costs
Varies by program. **Scholarships and early registration discounts available** See website for details.
U.S. Locations
Florida
New Hampshire
New Jersey
New York

Global Locations
Scotland,
Wales,
Spain
United Kingdom

Months
January, February, March, April, May, June, July, August, September, October, November
Sponsor's Calendar Link
www.murphywriting.com/writing-getaways.html
Sponsor's Facebook Page
www.facebook.com/murphywriting
Contact
Peter Murphy
Founder
Murphy Writing of Stockton University
30 Front Street
Hammonton, New Jersey 08037
United States
Phone:

609-626-3594


E-Mail: