| | |
| --- | --- |
| | Winter Poetry & Prose Getaway |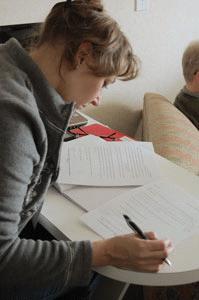 Murphy Writing of Stockton University Presents
Winter Poetry & Prose Getaway
Supportive. Energizing. Inspiring.
January 15-18, 2016 - Atlantic City area

Advance your craft and energize your writing at the 23rd Annual Winter Getaway featuring Stephen Dunn and Thomas Lux. Enjoy challenging and supportive workshops, insightful feedback and an encouraging community. Choose from fiction, nonfiction, memoir, screenwriting, poetry and more. **Scholarships and early registration discount available**

"This was the best workshop I have ever attended. You have accomplished the impossible–a wonderful workshop that caters to every level and style of writer. I look forward to attending another one soon." ~ Marie, Bernardsville, NJ

Learn more.
Website
stockton.edu/murphywriting
Year Established
1994
Program Description
Escape the distractions of your busy life. Advance your craft and energize your writing with a challenging and supportive Writing Getaway. Enjoy plentiful writing time, insightful feedback, good meals and good company. Get Away to Write.
Upcoming Events
Shore Thing Writing Getaway
Jun 4 2016
Venue: Dante Hall Theater,

14 N Mississippi Ave

,

Atlantic City

NJ

(Map/Directions)
Get Away to Write - Scotland
Jul 28 - Aug 4, 2016
Venue: University of Dundee,

Nethergate, Dundee DD1 4HN, United Kingdom

,

Dundee, Scotland


Live Free and Write
Aug 14 - 19, 2016
Venue: Dexter's Inn,

258 Stagecoach Rd

,

Sunapee

NH

(Map/Directions)

Number of Programs/Year
10
Program Length
1 to 8 days (Varies)
Group Size or S:T Ratio
Varies
Program Focus
Autobiography/Memoir, Business/Technical, Children's, Fiction, Horror, Humor, Journalism, Mystery, Nature, Non-fiction, Playwriting, Poetry, Romance, Science Fiction/Fantasy, Screenwriting, Travel, Young Adult
Faculty
2015/2016 faculty includes Kim Addonizio, Stephen Dunn, Thomas Lux, Pamela Curtis Swallow, Barbara Hurd, Carol Plum-Ucci, Mimi Schwartz, Peter E. Murphy and more.
Costs
Varies by program. **Scholarships and early registration discounts available** See website for details.
U.S. Locations
New Hampshire
New Jersey

Global Locations
Scotland,
Wales,
Spain
United Kingdom

Months
January, April, May, June, July, August, September, October, November, December
Sponsor's Calendar Link
www.murphywriting.com/writing-getaways.html
Sponsor's Facebook Page
www.facebook.com/murphywriting
Contact
Peter Murphy
Murphy Writing of Stockton University
35 S Dr Martin Luther King Blvd
Atlantic City, NJ 08401
United States
Phone:

609-626-3594


E-Mail: