| | |
| --- | --- |
| | Your Personal Odyssey Writing Workshop |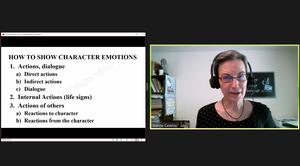 Your Personal Odyssey Writing Workshop • Application Deadline April 1

An intensive, personalized, one-on-one online workshop experience




Choose from 3 sessions:




6 weeks (starting 6/6/22)

3 months (starting 8/8/22)

6 months(starting 11/14/22)


Since its inception in 1996, Odyssey has become one of the most highly regarded workshops for writers of fantasy, science fiction, and horror. Guest lecturers include top writers, editors, and agents. Fifty-nine percent of graduates are professionally published, and among graduates are New York Times bestsellers, Amazon bestsellers, and award winners.

This year, Odyssey is transforming into Your Personal Odyssey Writing Workshop.

Have you ever wished that you could attend your own private writing workshop that would teach you exactly what you need to know, at the right pace for you, and respond to your questions, problems, and needs in extensive one-on-one sessions?

That's what Your Personal Odyssey Writing Workshop is. Students will receive the top-quality learning experience Odyssey is known for, but that experience will be customized to be more responsive to how each writer works and what each writer needs.

What Graduates Say
"In only six weeks, the Odyssey Writing Workshop taught me more about the craft and business of writing fantastical fiction than years of reading writing books, attending writing seminars and other workshops, and my many attempts at writing a novel that works." —Scott Gray

"The first two stories I ever sold would not have been written without Odyssey." —Elaine Isaak



Email jcavelos@odysseyworkshop.org, or click https://www.odysseyworkshop.org.

Odyssey also offers online classes.

Website
odysseyworkshop.org/
Year Established
1996
Program Description
An intensive, personalized, one-on-one online workshop experience for writers of fantasy/science fiction/horror, combining advanced lectures by top authors and editors, expert feedback, & deep mentoring. Choose from 3 sessions, discover your unique path.
Number of Programs/Year
3
Program Length
3 options: 6 weeks, 3 months, 6 months
Group Size or S:T Ratio
4
Program Focus
Science Fiction/Fantasy, Publishing, Fiction, Young Adult, Horror, Marketing
Faculty
Director Jeanne Cavelos, former senior editor at Bantam Doubleday Dell, bestselling author, winner of World Fantasy Award. Guest lecturers include Brandon Sanderson, Meagan Spooner, P. Djélì Clark, Melissa Scott, Nisi Shawl, and Sheree Renée Thomas.
Costs
Tuition: $2,450 + $45 application fee. Scholarships available.
U.S. Locations
Manchester, New Hampshire

Months
Year round
Sponsor's Calendar Link
www.odysseyworkshop.org/about-the-workshop/
Sponsor's Facebook Page
www.facebook.com/OdysseyWorkshop
Contact
Jeanne Cavelos
Director
Odyssey Writing Workshops Charitable Trust
P. O. Box 75
Mont Vernon, NH 03057
United States
Phone:

603-673-6234


E-Mail: