| | |
| --- | --- |
| | MurderCon, presented by the Writers' Police Academy |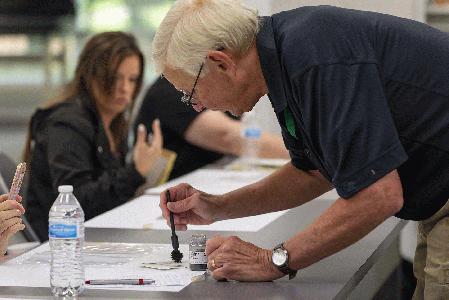 MurderCon, presented by the Writers' Police Academy, is a special hands-on training event for writers of all genres, with a specific focus on solving the crime of murder. It's a unique juncture of fiction and fact taking place August 6-9, 2020 at the elite Sirchie compound in Raleigh, N.C. Sirchie is the Global Leader in Crime Scene Investigation and Forensic Science Solutions. Their products and training have helped solve thousands upon thousands of murder cases worldwide.

Attendees receive the same instruction that's offered to, and attended by, top homicide detectives and investigators from around the globe.

MurderCon's incredibly detailed and cutting-edge workshops, taught by some of the world's leading experts, has never been available to writers, anywhere.

Yes, MurderCon is a "Killer" event, and you're invited to attend!

Keynote speaker - David Baldacci

Special Guest Speakers - Featuring pathologist Dr. Judy Melinek & author/husband TJ Mitchell. Also, Ray Krone, death row exoneree. Hands-on classes by FBI, ATF, Sirchie, entomologists, forensic geologist, anthropologist, clandestine grave expert, medical examiners, private investigators, homicide and sexual assault detectives, & many more.



For more information email lofland32@msn.com or visit our website at http://writerspoliceacademy.com.
Website
writerspoliceacademy.com
Year Established
2009
Program Description
International hands-on program for writers of all genres, with a specific focus on solving the crime of murder. Hosted at the renowned Sirchie compound. Sirchie is the Global Leader in Crime Scene Investigation and Forensic Science Solutions.
Number of Programs/Year
1
Program Length
4 days, 3 nights
Group Size or S:T Ratio
300
Program Focus
Journalism, Screenwriting, Publishing, Romance, Mystery, Fiction, Horror, Non-fiction
Faculty
2020 keynoter: David Baldacci Featuring pathologist Dr. Judy Melinek & author/husband TJ Mitchell. Also, Ray Krone, death row exoneree. Hands-on classes by FBI, ATF, Sirchie, entomologist, clandestine grave pros, homicide detectives, & much more.
Costs
$460 includes transportation between event hotel and Sirchie. ALL sessions, lunches at Sirchie, and reception. Breakfast included with hotel room reservation.
U.S. Locations
Raleigh, North Carolina

Months
August
Sponsor's Facebook Page
www.facebook.com/The-Writers-Police-Academy-317217495332/
Contact
Lee Lofland
Director
Writers' Police Academy
560 Peoples Plaza
Newark, Delaware 19702
United States
E-Mail: